Hi my dears, how are you?
This week, for me, was really tiresome: I did some tests at school, I worked hard for my EYP debate (European Youth Parliament, do you know what is it? If not, you can see here the details) and now I making my bags for travelling Saturday, to Brussels and Amsterdam. But it doesn't mean that I don't have time for you! I'm here to give you the opportunity to win one amazing Burgundy Heart Shirt from Romwe!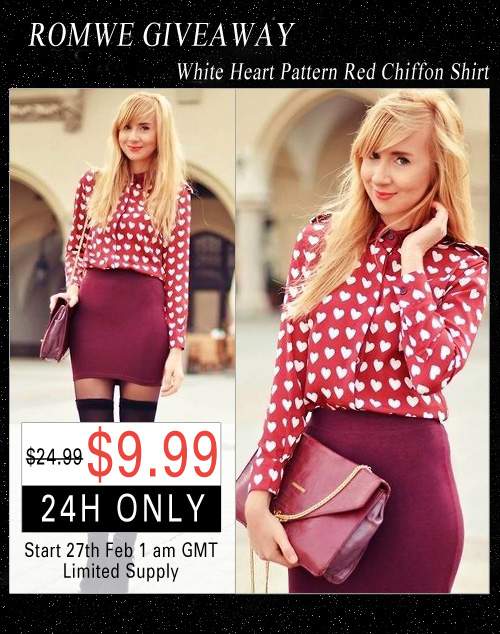 To win this amazing and pretty shirt, you have to follow the rules:
1. Add a comment on the product page via Facebook account to show your love to the shirt: http://www.romwe.com/romwe-white-heart-pattern-red-chiffon-shirt-p-71927.html
2. Like Romwe and Moda & Style on Facebook (You can follow me on Bloglovin here, if you don't has Facebook profile) 
3. Tell me you have done it by leaving me a comment following this post with your link comment on the shirt's page and your profile's name on Facebook or Bloglovin
Some notes:
> One lucky winner will be picked 5 days later.
> Btw, the heart shirt will be only $9.99 on 27th Feb GMT. Here is an inner coupon for you, my lovely fans: 10offheartshirt It can save you another 10% for the heart shirt on 27th Feb only.
Good luck! :)